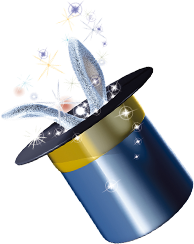 2023 Magical Memories Gala
Residence Inn Oxnard River Ridge • Oxnard, CA
October 21, 2023 • 5:00pm
Details About the Event
The 21st Annual Fundraiser Supporting the Programs of
the Brain Injury Center of Ventura County
---
This year's event will be held on Saturday, October 21, 2023, at Residence Inn River Ridge in Oxnard. The evening includes a champagne reception, silent and live auction, gourmet dinner, award presentations and entertainment. Our gala annually honors brain injury survivors, professionals, and family/caregivers for their hard work and dedication. This year we are honoring Jerry McClelland, survivor and Nancy Porcella, Brain Injury Specialists as Above & Beyond Award recipients. Click below to learn more about our two honorees:
Over 16,000 adults and children in Ventura County currently live with the permanent and devastating effects of brain injuries. Common causes include auto, sports and other accidents; military service injuries; and stroke or other illnesses. BIC serves over 800 survivors and their families.
The monies raised by this event will provide funding for hands-on support, counseling, education, support groups, advocacy, and care coordination for brain injury survivors and their families. Your donation will enable the Brain Injury Center to continue to offer these critical services at no cost to the survivor or family.
This year's event will also have the live entertainment of The Brandon Ragan Project, whom blend a classy edge to the classic funk & blues sounds that are ever present in the ongoing entertainment and nightlife live music. You can learn more about Brandon Ragan by visiting online: www.brandonragan.com